JVP Rabbinic Council Source Page
Tashlich l'Tzedek: A Ritual of Reflection & Recommitment
Tashlich is the Jewish ritual of the new year that involves casting off of sins. This is a ritual that involves recognizing wrongs done in the name of Judaism and committing to the struggle for justice.
Credit: JVP Rabbinical Council, 2014/5775.
Download here.
Tashlich l'Tzedek 2006/5767
The first Tashlich service by JVP Seattle. "As responsible members of the Jewish community, who heed the call to pursue justice, we face this obligation openly, freely, and sincerely."
Credit: JVP Seattle, 2006/5767.
Download here.
Yom Kippur
Yom Kippur is a day of ritual fasting and asking for forgiveness. These reflections and prayers are invitations to integrate reflections on Palestine solidarity into Yom Kippur.
Credit: Rabbis Lynn Gottlieb & Brant Rosen, 2010.
Download here.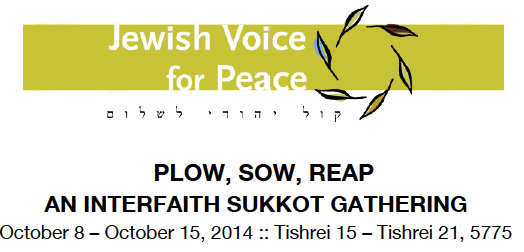 Plow, Sow, Reap: An Interfaith Sukkot Gathering
Sukkot is a harvest holiday, when people construct temporary dwellings to eat, meet, and sleep in. This guide has information, ideas, rituals and prayers for hosting interfaith gatherings for Sukkot. Credit: JVP Members, 2014/5775.
Download here.
Hannukah Gifts: 8 Meditations
Meditations on how the eight days of Hannukah connect to our work at JVP.
Credit: Rabbi Margaret Holub, 2014.
Download here.
Hannukah Readings, 2010
A bundle of Hanukkah readings, blessings, and more from JVP's Rabbinical Council, soon after the Council's formation.
Credit: JVP Rabbinical Council, 2010.
Download here.
Trees of Reconciliation: a Tu B'Shvat Haggadah
An original haggadah for Tu B'shvat, the birthday of the trees, created by Elliott bat Tzedek and Hannah Schwarzschild as part of Philadelphia Jews for a Just Peace. The seders focus on the role of trees in Jewish history and in Palestine/Israel, as well as on the role of the Jewish National Fund. Seders using this haggadah have been hosted in communities around the world, including 15 U.S. and Canadian cities, London, Be'ersheva, Jerusalem, and Sydney.
Credit: Elliott bat Tzedek and Hannah Schwarzschild, 2009.
Download here.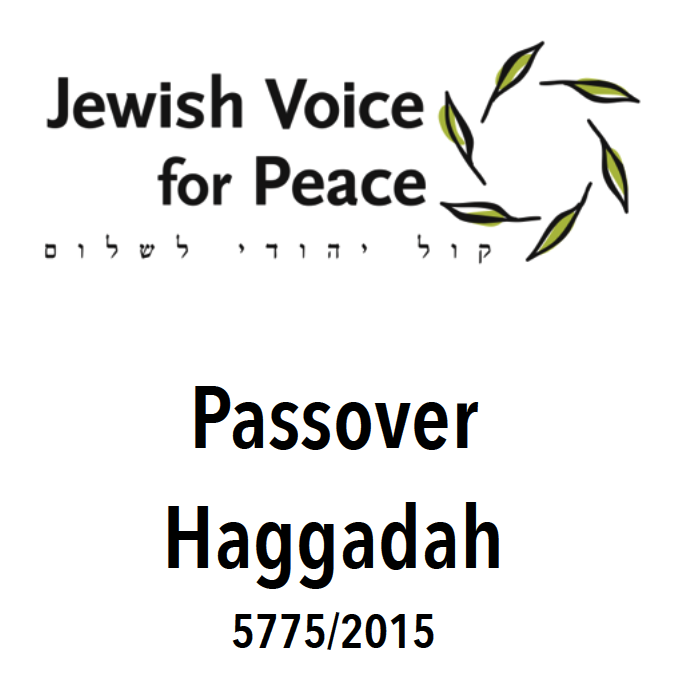 JVP Pesah 2015/5775
The 2015 JVP Pesah Haggadah, created over many years, inspired by many haggadot, most centrally the Jews Against the Occupation haggadah, and updated almost annual by JVP members, including artists and rabbinical council members.
Credit: JVP Members, 2015.
Download here.
Legacies of Resistance: An Anti-Zionist Haggadah for a Liberation Seder
Credit: International Jewish Anti-Zionist Network, 2014.
"IJAN is an international network of Jews who are uncompromisingly committed to struggles for human survival and emancipation, of which the liberation of the Palestinian people and land is an indispensable part. We are committed to the right of return for Palestinian refugees and to ending Israeli colonization of historic Palestine, which is reinforced by US economic and military power. We support full Palestinian self-determination and the right to resist occupation. We look to the Palestinian grassroots and Palestinian-led organizations as our primary points of reference in this struggle."
Download here.
Liberation & Occupation 5766/2006
Tisha B'Av Gaza Mourning Ritual
Tisha b'Av (the 9th of Av) is a fast day on the Jewish calendar, marking the destruction of the two Temples in 586 B.C.E. and 70 C.E. The day has since come to be a day of mourning for tragedies throughout Jewish history. This ritual was created for use in a public setting, at a strategic location to draw attention to the assault on Gaza in summer 2014.
Credit: JVP Rabbinical Council, 2014/5774.
Download here.
Tisha b'Av 5773
A Tisha B'Av ritual in poetry and song, that powerfully explores the themes of mourning, destruction, and many different relationshipsto Jerusalem.
Credit: Elliott BatTzedek, 2013/5773.
Download here.
 
Kabbalat Shabbat
Kabbalat Shabbat is the Friday night service to welcome and bring in Shabbat with song and praise. A collection of old and new shabbat songs, prayers, and poetry.
Credit: JVP Rabbinical Council, 2014.
Download here.