Ethan Heitner gallery
The Piano Player of Yarmouk
In 2014 Yarmouk Camp, home of the largest population of Palestinian refugees in Syria, was besieged by the forces of dictator Bashar al-Assad. Starving and under constant shelling, residents of the camp uploaded video of Eyham Ahmed wheeling his piano into public spaces with groups of singers. In March 2015 ISIS attacked the camp. On April 19, 2015, they burned the piano of Yarmouk.
"We Palestinians wake up everyday to teach the rest of the world life, sir."—Rafeef Ziadeh
This poster is dedicated to Palestinian artists and culture workers.
Printed at the worker-owned Stumptown Printers, Portland, OR.
This is #104 in the Celebrate People's History Poster Series. You can order a copy here.
 
Boycott Button
Designed for Adalah-NY as a graphic to be made into a button, i.e. printed in sheets and put into a button maker, inspired by a similar button made to protest South African Apartheid I saw while researching in the Interference Archive.
The Power of Our Voices
I started working on interviewing Palestinian artists about the cultural boycott and recording the interviews in comics form in 2012. They were originally published online at Mondoweiss, and one of them in World War 3 Illustrated #43.
I compiled all 3 interviews, along with a poem by Remi Kanazi, and text from Adalah-NY and PACBI's websites explaining the cultural boycott, its context, and guidelines. I included some other graphics from both the cultural boycott of South African Apartheid and the broader BDS movement, some cartoons by Carlos Latuff, and some more of my own art, and put it all together into one 24-page zine that I think provides a very comprehensive introduction to the cultural boycott. The impulse to create a single unified resource for the cultural boycott was that I had to do a workshop at the Gabfestry for Creative Dissent, hosted by the Beehive Collective in Machias, Maine. Since then it's proven to be a very useful resource, and literally thousands of copies have been printed by Adalah-NY and distributed.
The full contents of the zine, including comics, text, and illustrations, are in one place here.
Love Under Apartheid
Originally designed for an Adalah-NY Valentine's Day protest outside the NYC storefront of settlement builder Lev Leviev in 2009, later used as the primary graphic for the Love Under Apartheid project and Love Letters to Zionists project.
BDS Marching
A little drawing I made to put on an Adalah-NY flyer.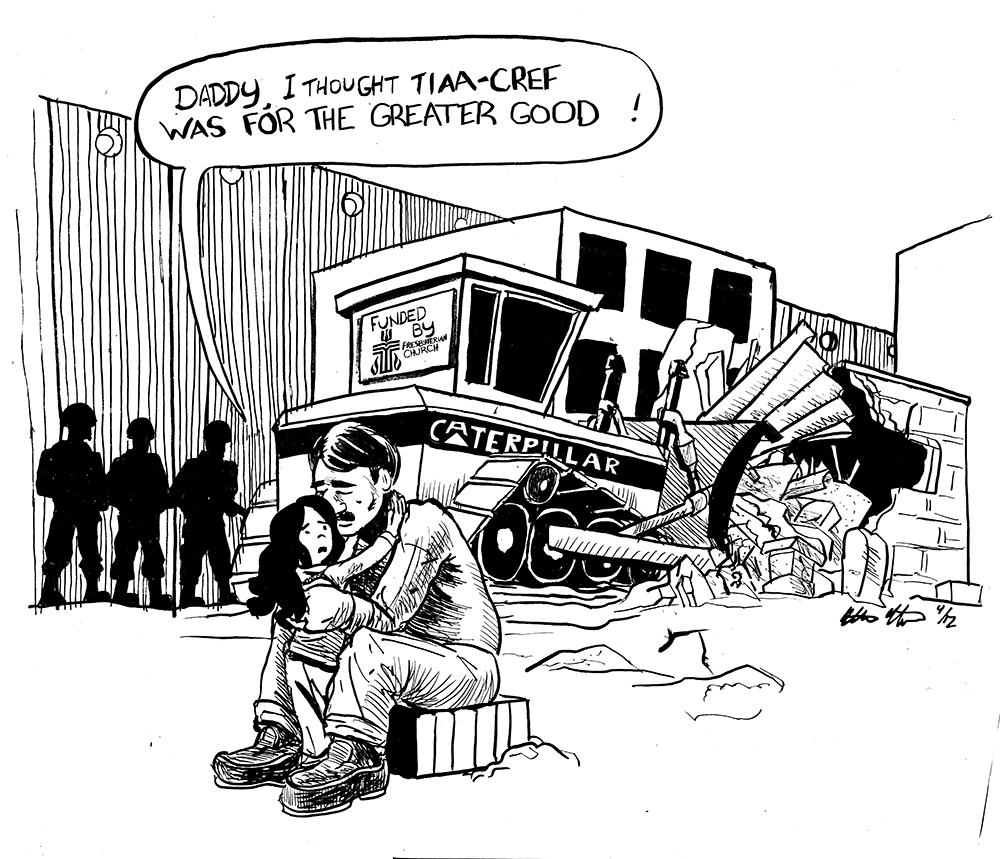 TIAA-CREF Bulldozer
You can change the sign on the back of the buildozer to read whatever company or church you are targeting. Originally designed for the Presbyterian church.
Freedom Riders Cantastoria Illustrations
Nothing "Normal" About It
One of my most-requested comics, it does a great job of explaining what "normalization" means and why offers of dialogue with Zionists should be regarded skeptically. The whole thing is posted online here. The zine also contains the full text of the statement by Palestinian Youth United Against Normalization.
Palestine Calling
Made for Adalah-NY's "Palestine Calling" campaign in the fall of 2015 to represent the call for boycott generally and the cultural boycott specifically.
Old Abdullah Had a Farm
Click here to open the full document. One of my first long-form comics about BDS. A sing-a-long introduction to the BDS movement, written by Adalah-NY members on a long car ride. Comics reviewer Rob Clough called it "a perfect example of effective and memorable political comics." Seth Tobocman gave me the idea to make the characters mice. Art Spiegelman has yet to respond, as far as I know. The zine also contains the full text of the 2005 BDS call.
There is a Checkpoint Around This Center!
This comic was made after the leadership of the LGBT Center in Manhattan banned Palestine organizing groups from meeting at the center or using the space. A year after the ban, I saw Tara Tabassi and Ana Conner perform an amazing spoken-word piece written by Tara at the Center in protest, connecting Palestine solidarity to the fight against racism, policing, and trans exclusion at the LGBT center. I finished making the comic, with lots of input from Tara, almost a year after that.
The full thing was originally posted at Mondoweiss, where you can also dig a link to a video of Tara and Ana's amazing performance. It was then made into a zine distributed by Queers Against Israeli Apartheid (QAIA) -NYC, and shortly after that, the ban was dropped!
The print version of the zine contains a full timeline of what happened at the LGBT Center.
Together We Have Strength
A poster I made for the JVP National Membership Meeting in Baltimore in 2015. Inspired by Adrienne Cooper's rewriting of a traditional Yiddish niggun, volt ikh gehat koyekh, which has a melody taught to me by Hannah Temple.