Nicole Bindler gallery
Free Advice and an Interview with Farah Saleh
Killer Sideburns' Stochastic Stars
The ballroom of the William Way LGBT Center shimmers as Purim shpil attendees pour in, many wearing sequins, glitter, and wigs. My good friend Ezra Berkley Nepon, aka "Killer Sideburns," comes onstage wearing Marx Brothers suspenders hooked onto booty shorts. They introduce their work, "No One Mourns The Wicked: The Wizard of Shushan," co-directed by jaclyn Pryor, which is a mashup of the Book of Esther with the Wizard of Oz. They declare that the venue is ideal because "Purim is the queerest of Jewish holidays."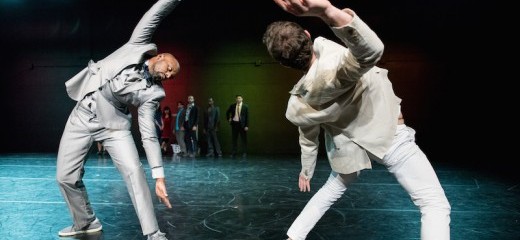 Archiving Occupation, Identity and Resistance
In Archiving Occupation, Identity and Resistance (thINKingDance, March 10 2016), Bindler and tD guest writer Hadar Ahuvia discuss two works–Archive and Badke–presented in the New York Live Arts, Live Ideas Festival, curated by Tommy Kriegsmann and Adham Hafez. This year's series features work from the Middle East and North Africa. Archive by Israeli Arkadi Zaides features video of Israeli soldiers and settlers taken by Palestinians, coordinated by the human rights organization, B'Tselem. Zaides performs in front of the footage and embodies the actions of the cameras' subjects. Badke, a collaboration between Belgian dance companies, KVS, les ballets C de la B and the Palestinian organization A.M. Qattan Foundation, features ten Palestinian dancers from various disciplines including hip hop, ballet, contemporary, and circus arts. All of the dancers perform Palestinian folk dance.
WOMEN - Excerpts and interviews
Video trailer of the dance WOMEN, created by JVP Artist Council member, Nicole Bindler, in collaboration with Diyar Dance Theater.
"Dancing in Bethlehem: A Diary," Jewish Currents
"Hadar Ahuvia and Jesse Zaritt: Jewish-American Choreographers Grapple with Zionism and the Nakba," Thinking Dance
Bindler interviews two Jewish-American dance artists who are both currently making solo choreographic work that grapples with Zionism, identity, and Palestinian rights. They embody contradictions in their work: How can one celebrate the movement forms that have positively impacted their dancing lives–such as Israeli folk dance or Gaga–while simultaneously confronting the political implications of these forms that have been used by the state of Israel as propaganda tools?
"Palestinian Dabke Makes it to the Annenberg," Thinking Dance