Artist Council
Madeleine Avirov, "Occupation Study #1: Gaza 2014."
One in a series of studies of the occupation. Year: 2014; Medium: Watercolor, graphite, and white chalk on paper; 9" x 9". madeleineavirov.com
Micah Bazant, "Refugees Welcome Here."
This poster represents the strength, humanity, and dignity of refugees. Created by Micah Bazant in collaboration with JVP's Artists & Cultural Workers Council, this image defies Islamophobia and publicly declares our solidarity with refugees everywhere, from Syria to Central America to Palestine. More information at JVP's "Refugees Welcome" page.
Micah Bazant, "Gaza Will Be Free"
Created during the 2014 Israeli attack on Gaza. Year: 2014; Medium: 11x17, mixed media. Available for purchase.
Statement: When I was in Palestine, I learned about the saber – the prickly pear/nopal cactus originally from Mexico - as a symbol of indigenous resilience and resistance. The saber are/were used as natural fences. I saw them growing up again where Israeli bulldozers had flattened entire towns - they'd show a ghost map of where Palestinian homes had been. I believe the terror and apartheid of zionism will end and free Palestine will rise, just like the beautiful saber.
Sandra Ceas, "Eyes of Jerusalem."
My work expresses the emotional tension within us when it comes to global concerns about humanity, justice and Peace.
Year: 2015; Medium: Graphite and watercolor. www.sandrajeanceas.com
Nava EtShalom and Irit Reinheimer, "All of Us Accounted For."
Chanukah Poster. Year: 2012
Ethan Heitner, Adalah-NY Button
"Designed for Adalah-NY as a button graphic, inspired by a similar button made to protest South African Apartheid I saw while researching in the Interference Archive." More at freedomfunnies.tumblr.com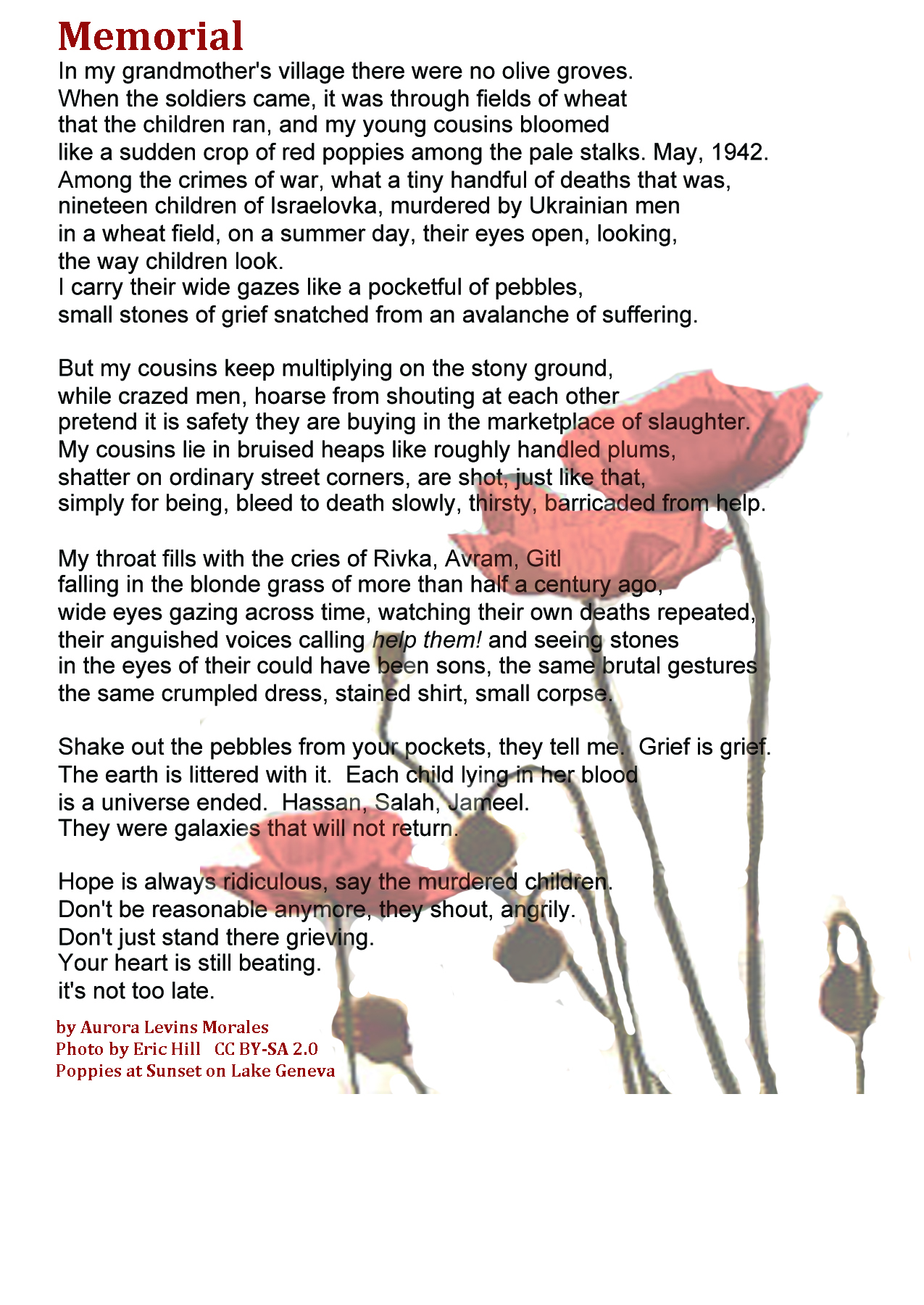 Aurora Levins Morales, "Memorial."
Ezra Berkley Nepon; "Suck My Treyf Gender" Poster.
This Queer Anti-Imperialist Purim Cabaret was held in Philadelphia in 2003, organized by myself and other members of Feygeles for a Free Palestine. The event raised funds for two Palestine-solidarity organizations. The poster includes two footnotes: 1) Treyf - Yiddish for not kosher; impure; forbidden food, sometimes used as a synonym for queerness; 2) Purim - Jewish holiday. A carnival-like celebration about overcoming fascist powers-that-be, embracing extremes, and in this case, celebrating Palestinians' rights to self determination. Year: 2003; Poster design/silkscreen printing by Courtney Daily. More about the event in "Wrestling with Esther: Purim Spiels, Gender, and Political Dissidence."
Ellen O'Grady, "Lighting Chanukah Candles"
Drawing from a photo of JVP-Triangle NC gathering in downtown Durham to light Chanukah candles and rebuke Gov. McCrory, welcome Syrian refugees, and protest inmate abuse at Durham County Jail. (December 11, 2015)
Ellen O'Grady, "Taxi."
Illustration for a book (currently in progress) entitled The Magic Nation. Year: 2014; Medium: Acrylic on canvas; 12" x 9". www.ellenogrady.com
Debra Stuckgold, "Untitled Map #2."
This is an early piece from an on-going series of maps that investigate landscapes whose borders and geographic features have been altered, while reflecting on the juncture of landscape, memory and the meaning of home(land). Year: 2004; Medium: serigraph on paper; 18" x 22". www.stuckgold.com